Las Posadas Navideñas 2019 de Radio Lobo 106.5
El fruto de nuestras posadas: La Bondad
Las posadas navideñas son tan emotivas en nuestra comunidad hispana y con el propósito de continuar con nuestras fiestas y tradiciones los invitamos a pedir posada en algunos de los establecimientos locales al ritmo de una viaja canción, compartiendo tamales, chocolate caliente, y para los niños una piñata llena de dulces.
En este año (2019) algunos de nuestros clientes integraron regalos y así fue como surgió la historia de Juan e Israel.
La piñata se rompió e Israel fue uno de los seis ganadores de los regalos que incluía el premio mayor entonces Israel se acercó a Juan, que no había corrido con la misma suerte, le deseó una feliz navidad con un abrazo y puso un par de audífonos en sus manos. Aquí se cumplía el verdadero significado de la navidad.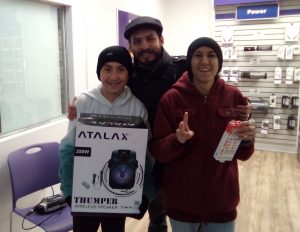 De izquierda a derecha Israel Anderson, Valentin "El Tlaxcalteca" y Juan González
The fruit of our posadas: Goodwill
The Christmas Posadas are very meaningful in our Hispanic community. Their goal is to continue our traditional celebrations and each year we invite the community to participate in the Posadas at local establishments with familiar songs, tamales, hot chocolate and a piñata full of treats for the children.
This year (2019) some of our clients also shared gifts with the community and that is how the story of Juan and Israel came to be.
When the piñata celebration was finished, Israel was one of six children to win an additional gift and his was the grand prize: a pair of name brand headphones. After he collected his gift, Israel came up to Juan, who had not won something extra that night, and while wishing him a Merry Christmas with a hug, he placed the headphones in his hands. Juan is a child with special needs and Israel could see he was especially enthusiastic about music. Juan was overjoyed with his surprise and his mother was moved to tears. That night we were all grateful to Israel for reminding us of the true meaning of Christmas.